I'm blog hopping and I'm enjoying it! ;-)
This blog might be new but I'm not a first-timer on blogging. I just never had the guts to share my blog and 'expose' it. But this time, I'm ready. And honestly, I'm enjoying it. Not only do I get to link my blog for others to see (and follow *aheem*), I also get to discover great blogs (and giveaways)!
I started blog-hopping last week through Blogspot's convenient link: Next Blog. :p And then I chanced upon sites which exchanged linkys and what-have-you's.
And so, this week, and for the next weeks to come, *I think*, I will be joining the bandwagon!
a fairly new linky, now on it's second week!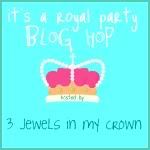 and this one is on it's first week! :)
Let's do the hopping!